Susan Webber – Mind-Body Wellness Practitioner
Graduated from Southwest Institute of Healing Arts (SWIHA) in 2015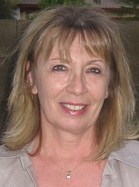 Susan sees those that want & need more than traditional talk therapy. She is a Holistic and Integrative Mind-Body Therapist (MBWP) and Usui Shiki Ryoho Reiki Master/Teacher and creator of the Reiki Nemuri ® process. She is also a Karuna Reiki practitioner. Her diploma is in Mind-Body Wellness from the Southwest Institute of Healing Arts. She is certified in both Clinical & Ericksonian Hypnotherapy (CCHt). She is also a fully certified Professional Ontological Life & Leadership Coach (CPC) and certified NLP Practitioner/Teacher from Source Point Training (formerly Resource Academy of Coaching.) Her educational focus has been in Holistic & Energy Psychology, Energy Medicine and the power of the subconscious mind. As a Coach, she will ask the "hard" questions which will assist you in getting out of your own way and your self-imposed limitations for the purpose of living with more freedom and joy. She intuitively blends two or more therapies based on your unique needs.
She is on staff and was an integral part of building Wellness Elements, Scottsdale-Lincoln Health Network in Glendale AZ. She is also in private practice where she sees clients for anything from learning to relax to symptoms of depression, trauma, insomnia, smoking, emotional eating, chronic pain and more.
She enjoys teaching and has facilitated groups in Tobacco Freedom, Stress Mastery for Life Balance, Weigh of Wisdom emotional eating, Chakra Awareness, Reiki Nemuri ® , Past Life Regression Therapy, Divine Guided Writing, Neuro-Linguistic Programming basics and more.
"I invite you to take a few minutes to get a feel for who I am. If you see or feel something that will benefit you and want to explore what it could mean to your healing, give me a call. I would love to share a little of what I know so your life can be better in some way." – Susan
Namaste'
Business Specialties
Hypnotherapy
Life Coach
Online Coaching
Stress Management
Relationship Coaching
Transformational Reiki