Lisa Saylan – Soul to Soul, LLC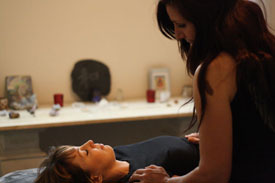 Contact
Location
8040 Morgan Trail, Suite 11A
Scottsdale Arizona 85258
United States
A former elite triathlete who suffered from muscle fatigue, tissue damage and stress, Lisa Saylan personally experienced the benefits of massage and other healing modalities during her competitive years, and while recuperating from a significant cycling accident.
She learned first-hand the human body is capable of healing itself when balanced, relaxed and properly nourished; massage and energetic therapy contributed to her complete and speedy recovery.
Inspired by the impact these rejuvenating and healing therapies had on her life, combined with a desire to help others Lisa left her professional field and became a Licensed Massage Therapist, Certified Reflexologist, Certified Reiki Master/Teacher and a Certified Yoga Instructor. Through the various healing modalities she offers, Lisa assists others in reducing stress and improving their overall health and well-being. In addition to having a private practice, Lisa has been teaching privately for three years. She also teaches at a nationally accredited healing arts college.
Lisa strongly believes in the practice of giving back to the community. She has volunteered as a Reiki Practitioner at the Arizona State Veteran's Home in Phoenix, a bedside volunteer at Phoenix Children's Hospital, and as a Reiki Practitioner at various fund-raisers and events throughout the Phoenix Valley.
Her specialties include:
Massage — Lisa is a Licensed Massage Therapist, practicing Deep Tissue and Swedish Massage as well as teaching Massage Therapy at SWIHA
Reiki — Lisa is a Reiki Master and both offers sessions and teaches Reiki at SWIHA as well as privately
Reflexology — Lisa offers Reflexology sessions and teaches Reflexology classes at SWIHA
Intuitive Reading
Yoga — Lisa is a Certified Yoga Instructor