Earl Duskey – YTT & LMT
Graduated from Southwest Institute of Healing Arts (SWIHA) & Spirit of Yoga (SOY) in 1994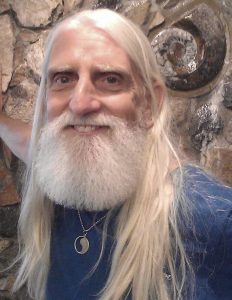 Earl set out on a path to a healthier lifestyle in 1985 by joining a local ATA Taekwondo club in East Mesa. After achieving the rank of 3rd degree black belt and having his own school in Payson, AZ, he moved back to the valley to begin a new career in massage, graduating from Southwest Institute of Healing Arts in 1994. In 2002, Earle came back to SWIHA for more yoga and life coaching to begin with. Ana Lunaria, Jeff Martens, Cain Carroll and Michelle Dante were his instructors in the yoga program. Earle's other favorite Instructors included Anusara Inspired, Christy Burnette, Desiree Rumbaugh and Yin Yoga by Paul Grilley (All-time favorite instructor and now his student Joe Barnett). He practiced chanting with Nicolai Bachman. Earle's other favorite teacher was Kamini Desai, with whom he earned a Yoga Nidra Certification. Brian Legare, with whom Earle earned his advanced level of Yoga Wall training, create's my trinity of favorites.
Being vice president of the Arizona Massage Board and on the policies committee for the FSMTB. Taught me politics, practices, diversity, rules & regulations that enhance wisdom between the practitioner/client relationship. Having a small practice with some clients that have been with me for over 20 years. I Taught fourteen years of classes for SWIHA with Deep Tissue, thumbless and Myotherapy being some of my favorites. I have a certificate in Hypnotherapy / Timeline™ also, Yoga Nidra and taught CE's for YIN YOGA & certified Wall Yoga students
Earl blends Massage, Yoga, Energy, Spirit and Educational information into a unified self-healing art that teaches the client to ultimately be self-Healing. By Appointment only.
I am currently Semi Retired and taking Select clients only. Read more and let's see with time limitations and traveling, if we can be that perfect fit. I do believe there is a Win/Win in every situation. You and I may be that and it could be I'm am not. Pray on this call me if you get that signal. Namaste'
Business Specialties
Hypnotherapy
Life Coach
Spiritual Celebrant/Minister
Traditional Reiki
Transformational Reiki
Toe Reader
Yoga Teacher